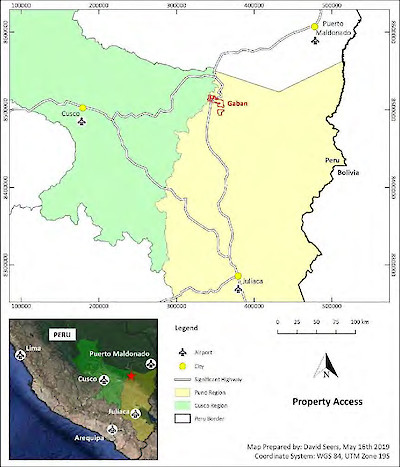 Project Summary
| | |
| --- | --- |
| Project Size: | 18,700 Hectares (187km2) |
| Target Style: | Orogenic shear zone hosted gold mineralisation - 3 auriferous shear zones have been identified to date |
| Drill Targets: | Three field campaigns completed in 2019 with the objective of outlining areas for drill testing in 2020. Results pending. |
| Targets: | Initial work will focus on the Picitiri, Yanamayo, and San Jose shear zones |
| Ownership: | 100% - 28 concessions (22 granted, 6 under application), subject to NSR Royalty |
| Location: | San Gaban District of Puno, Peru |
| Geology: | The Puno Orogenic Gold Belt ("POGB") |
Highlights
Excellent infrastructure: The town of San Gaban lies within the Property limits and serves as a logistical base for exploration teams. The national road network of Peru connects San Gaban to major towns including Cusco, Juliaca and Puerto Maldonado from where it is possible to fly or drive to Lima. The San Gaban hydro-electric dam has a 206 MW capacity and provides power to the town of San Gaban.
The principal mineralogical, lithological and structural controls required for economic orogenic gold mineralization to occur are present.
Three outcropping auriferous shear zones identified: Picitiri, Yanamayo and San Jose.
The Company has identified has also located outcropping slate shear zones hosting quartz veins-veinlets and observed two ages of mineralization in intrusives. Some of these features are recognized in the Ollachea gold deposit located 40kms south of Gaban in the POGB. At Ollachea gold occurs in association with pyrrhotite and other sulphides within shear zones similar to those observed at Gaban.
Several areas of active alluvial placer gold mining have been recorded in drainages around the Picitiri, Yanamayo, and San Jose shear zones. Some of the artisanal workings have also exploited the outcropping shear zones.
Background
In September 2019, Winshear acquired a 100% interest, subject to a 2% NSR, in the Gaban Gold Project and Tinka IOCG Project in Peru from Palamina Corp through the issuance of 10,000,000 common shares of Winshear (see news release here).
Work done to date
Palamina completed five field programmes, conducting geological mapping, stream sediment sampling (80 samples), and rock sampling (183 samples).
In addition, an airborne magnetic and radiometric survey was flown over the Main Block of the property. The magnetic data indicates that the shear zones are associated with a consistent magnetic (TMI) low, and this area will be the focus of initial exploration work. Interpretation of the magnetic / radiometric data has identified numerous other targets that will be followed up with initial mapping / ground truthing.
The Southern Block has not been covered by airborne geophysics but does cover similar geology to the Main Block. Winshear plans to conduct stream sediment sampling over the southern block in the 2020 field season.
Work completed in 2019
Channel sampling of shear zones where they are exposed.
Ground truthing of targets Identified from the airborne geophysics data.
Results first field campaign completed in October 2019
Winshear is conducting exploration to locate the hard-rock source of alluvial gold in the Yanamayo and Piquitiri rivers, which drain into the Madre de Dios basin. In 2018, a heli-borne geophysical survey was flown over Gaban as part of a systematic exploration program that outlined regional structures with the potential to host gold mineralization. To date five shear zones have been identified on the property. The goal of the 2019 field campaigns was to identify the most prospective sections of these newly identified structures. A second campaign was conducted in November / December 2019 and will be reported as results are received.
Key Points:
First field programme conducted by Winshear Gold focused on the Coritiri stream sediment anomaly.
81 channel samples of bedrock (1.0-2.5m in length) were collected;

17 samples returned 0.1g/t – 0.49 g/t Au
6 samples returned 0.5 g/t – 0.99 g/t Au
7 samples returned 1.0 g/t – 4.99 g/t Au
2 samples returned 5.0 g/t – 9.99 g/t Au
1 sample assayed 15.75 g/t Au

Highlights include 15.75g/t Au over 1m, 5.72g/t Au over 1.5m, 3.57g/t Au over 2.5m, and 5.7g/t Au over 1m.
The mineralized area correlates strongly with an east-southeast trending geophysical target that is open to the east southeast and west northwest.
Samples were collected from sheared sedimentary rocks, typically siltstones and shales / slates, with varying amounts of quartz veining. The sediments are identified as belonging to the Ordovician San Jose Group. Quartz veins vary in thickness from 1mm up to 80cm in width.
Up to 3% sulphides (pyrite and arsenopyrite) are associated with the quartz veins
The geology in the target area correlates well with other known deposits in the POGB including the Ollachea Project 40 km to the SW.
Numerous old prospect adits were discovered in the area, some of which were up to 15m long.
Presentation on the emerging gold discovery at the Gaban Gold project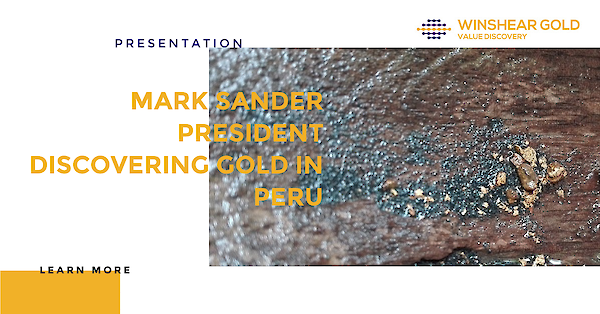 Maps